Special Precaution Continues After Murder On the Promenade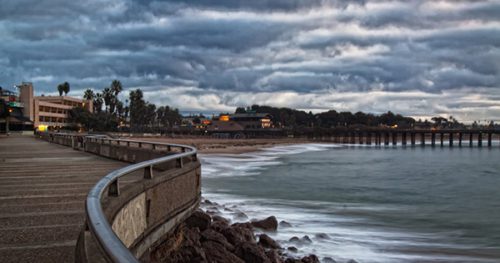 Jamal Jackson stabbed Anthony Mele, Jr. to death on Ventura's Promenade in April 2018. Once again, the city was in the national news.
Poor Judgment Exercised With The Murder On The Promenade
Jackson was a repeat offender and homeless. Many citizens jumbled his criminal act and his impoverished state. Ventura Police received a call that Jackson was acting suspiciously. Patrol units were not immediately available. Instead, the dispatch center observed Jackson via remote camera. Two and a half hours after the initial call, Jackson committed the murder.
The crime prompted an immediate reaction by Ventura Police. First, patrols along the promenade increased. At first, two officers patrolled the boardwalk 20 hours per day. Shortly after that, police expanded the patrol radius to include downtown. In July 2018, the City Council approved funds to continue the patrols. Now two officers patrol 12 hours per day. Arrest data increased since the incident. Ventura Police still deal with a significant number of recidivist criminal homeless.
Police Response To The Murder On The Promenade
Following the incident, the Police department reviewed its procedures. Chief Ken Corney admitted lousy judgment. Substituting video monitoring for an officer responding was not the right choice. Since then, there have been changes

to the security camera monitoring. The changes include:
Extra cameras
Active surveillance
More training
Changes in monitoring policy
Re-prioritization of Calls for Service response.
The review also concluded police adequately prioritized the call when it came in.
Policing The Homeless Gets Harder
In September 2018, the 9th Circuit Court of Appeals issued an opinion in Martin v. Boise. The ruling hinders Ventura Police's ability to curb homelessness. The court concluded that imposing criminal penalties for sleeping outside on public property violates homeless persons' Eighth Amendment rights. They deem it cruel and unusual punishment.
Within two months, the community returned to business as usual. Public outcry diminished, but the problem of criminal homelessness continues.
https://www.vregventura.org/wp-content/uploads/Anthony-Mele-Jr.-Memorial—WP.jpg
666
1000
VREG Editors
https://www.vregventura.org/wp-content/uploads/vreg-logo-1.jpg
VREG Editors
2019-01-09 18:00:05
2019-01-09 16:11:50
Special Precaution Continues After Murder On the Promenade