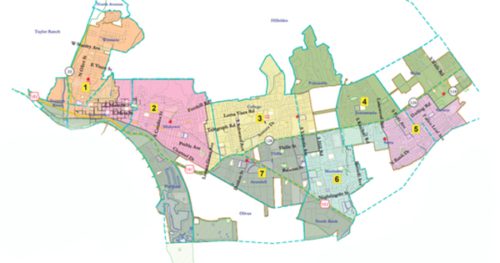 Ventura held its first City Council election by voting district. The new voting process confused some voters. Others felt disenfranchised.
Lorrie Brown (District 6), Jim Friedman (District 5), Erik Nasarenko (District 4) and Sofia Rubalcava (District 1) won. The candidates raised a record amount of money. Campaigning was in districts instead of citywide. One would think the amount of money needed would be less. The cost-per-vote skyrocketed from $2.75 per vote in the last election to a record-high $19.90.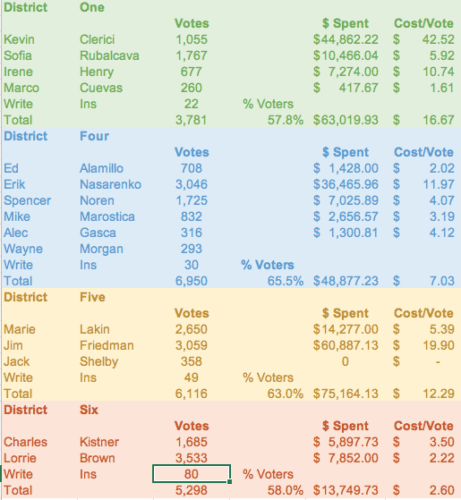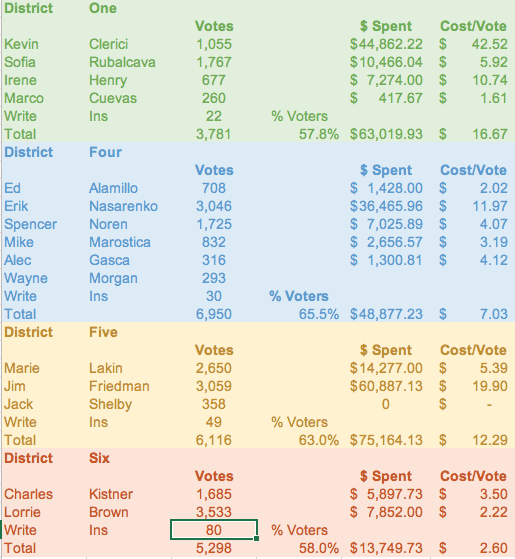 The candidates raising the most money were Jim Friedman, $60,887; Kevin Clerici, $44,862; and Erik Nasarenko, $36,464. A distant fourth highest campaign fund was Marie Lakin at $14,277. Of the three top fundraisers, only Kevin Clerici failed to get elected. (These numbers will increase. The final campaign finance report is due January 31, 2019)
Strong Voter Turnout In City Council Election

Voter turnout was high in each of the districts except District 1. A mere 1,767 votes secured a seat for Sofia Rubalcava. All the other winning candidates had over 3,000 votes.
Newly-elected Councilmembers now have to shift their focus. The entire campaign, they focused on convincing district voters their interests came first. Now they're elected, they must change that focus to represent the whole city. Only the most skilled among them will be able to bridge the gap to balance their district wants and the city needs. It will not be easy. There will be growing pains as the Councilmembers juggle the competing requirements.
The net effect of district voting achieved its outcome. The new Councilmembers are the most diverse group elected in Ventura's history. One has to ask if the price to reach the result was worth it.
What Are The Implications?
Campaign cost inflation is the price Ventura politicians pay for City Council diversity. Now, only the fundraisers who spend large sums of money win.
All Councilmembers will balance district interests and citywide interests. None of them have experience with it. We can only hope the city doesn't suffer while the Councilmembers go through this growing pain.
https://www.vregventura.org/wp-content/uploads/Vertical-Stack-of-100s—WP.jpg
666
1000
VREG Editors
https://www.vregventura.org/wp-content/uploads/vreg-logo-1.jpg
VREG Editors
2019-01-10 19:00:40
2019-01-13 09:05:13
Most Money Ever Spent In A City Council Election In 2018