"Stand up to your obstacles and do something about them. You'll find they haven't half the strength you think they have."
—Dr. Norman Vincent Peale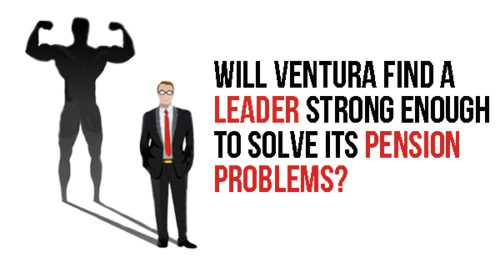 Ventura's unfunded pension liabilities continued to grow in 2019 to $218.6 million. The City of Ventura continues to sink deeper into debt to pay for city employees' present and future retirement benefits.
Unfortunately, the economic reality of the city's current public pension liabilities is not receiving the attention it demands. We raised the warning flag about the growing unfunded pension liabilities debt in 2009, 2011, 2013, 2015, 2017, 2018 and 2019, yet the problem continues to grow unabated.
Revised Unfunded Pension Liabilities Figures
The new unfunded pension liabilities figures come from the 2018-2019 Comprehensive Annual Financial Report (CAFR). Ventura added $3.5 million to its unfunded liabilities. Simultaneously, the market value of Ventura's assets held by CalPERS dropped to 66.7%, a multi-year low.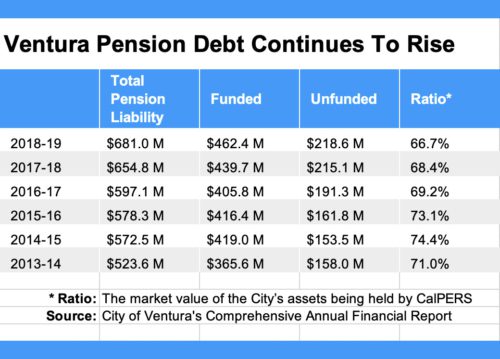 A
Political Hot Topic
Discussions about pensions get emotional because we're talking about people's future and security. Let's be clear. We respect the work city employees do. There is no denying that fire and police perform a vital job that is both dangerous and requires a high level of training and responsibility.
Our concern is not about their work. We're uneasy about how the city structures, accumulates and pays retirement benefits.
Neglecting Pension Liabilities Doesn't Make Them Disappear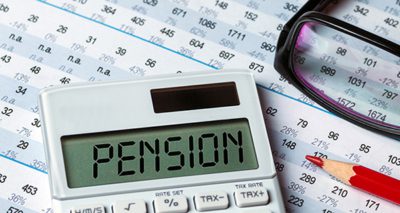 For ten years, Ventura has done little to remedy its unfunded pension liabilities. During that time, there have been four different City Councils. Yet, they made only a modest effort to solve the problem. Then-Mayor Bill Fulton and City Manager Rick Cole claimed in 2011 that the City of Ventura had tilled new ground by requiring the city employees to pay something toward their retirement – 4 ½%.
Yet, closer scrutiny showed employees pay their 4 ½% retirement contribution toward the employers' portion (i.e., The taxpayers' portion) of what Ventura sends to the CALPERS retirement plan. This accounting maneuver explicitly increases the employee's total compensation, meaning the "contribution" counts as the employee's income to calculate the employee's retirement benefit when they retire.
What Ventura Can Do About Its Unfunded Pension Liabilities

The City Council made this one attempt to improve the current system but did not address the problem in a meaningful way. Since there are no proposals from the Council, the League of California Cities and Government Finance Officers Association recommended these actions to confront unsustainable pensions.
Reduce the unfunded liability by making annual catch-up payments even more than CalPERS instructs you to pay—if you can afford to pay more.
Raise taxes
Reduce services
Require voter approval of any pension obligation bond or POB. (Click to learn more about POBs)
These are terrible choices for the public.
Suggestions For Addressing Unfunded Pension Liabilities
There are two other choices for our City Council to consider if they have the political will.
Make beneficiaries pay more. With the city covering 100 percent of the unfunded liability, the problem will continue to grow. There will be minimal reforms because the actuarial losses fall on the taxpayer. Capping the employer contribution at a fixed percentage of salary would cut pension costs for the city. As pension costs increase over the years, the employees will pay all the growing costs.
Change when retired city employees may begin collecting pensions. This alternative solution applies to new employees only. What if police and fire could vest their generous pensions in full by age 50 or 55, as they do now, but the payments did not start until age 65? Why would that help? The reason is that even if the city makes no further contributions, the fund will have ten more years to grow. At current official pension growth rates, that would more than double the fund's value over those ten years. Also, the retirement payment period would be ten years shorter, given the same life expectancy. Such a system would still offer retirement security, but it would start at what most of us consider average retirement age.
Public sector employees may resist the changes but this solution makes sense. Private sector employees don't get their full social security until 65 or even 67, depending their birth year.
Examining How Much City Employees Make
In 2019, 92 of the top 100 salaries on the city payroll are police officers and firefighters. Every one of the Top 100 earns more than $216,762 in pay and benefits. For perspective, the average family in Ventura earns $66,000 per year with two wage earners.
Raw Political Power Behind Unfunded Pension Liabilities

Ventura's city employee unions negotiate higher and higher salary increases disregarding any concern that the money may not be available to pay their pensions once they retire. Union negotiators believe a virtually ironclad guarantee exists for the workers to whom the city promised the pension benefits. So, many Councilmembers accepted the same thing, although it's no longer valid. A Federal Bankruptcy Court ruled otherwise in January 2015.
CALPERS argued that the California Constitution guaranteed the union contracts and thereby pension benefits from cuts. And if the court didn't agree, they pleaded that they enjoyed sovereign immunity and police powers as an arm of the state. And if the court still disagreed, they argued that they have a lien on municipal assets.
The Federal Bankruptcy Court effectively threw them out of court, saying, "It is doubtful that CALPERS even has standing.   In his opinion, Judge Christopher Klein writes "It does not bear the financial risk from reductions by the City in its funding payments because state law requires CALPERS to pass along the reductions to pensioners in the form of reduced pensions."
Judge Klein further stated, "CALPERS has bullied its way about in this case with an iron fist" and "that their arguments are constitutionally infirm in the face of the exclusive power of Congress to enact uniform laws on the subject of bankruptcy…".
The impact of this decision is that CALPERS cannot stop cities from modifying pensions. Yet, the Ventura City Council appears unaware of the findings.
Editors Comments
Past retirement pension negotiations were based on union bargaining and raw political power, creating a gap between what politicians promised and what cities can really pay. We offer some solutions, but it will take political will to bring the retirement benefits back to reality. Changing the system is the only way these promised benefits can be sustainable and dependable for retirees. It's also the only way that taxpayers can afford to pay for them.
Write Directly To Your City Councilmember To Insist They Address Ventura's Unfunded Pension Liabilities

Below you'll find the photos of our current City Council. Click on any Councilmember's photo and you'll open your email program ready to write directly to that Councilmember.
For more information like this, subscribe to our newsletter, Res Publica. Click here to enter your name and email address.
https://www.vregventura.org/wp-content/uploads/Pension-Reform—WP-1.jpg
666
1000
VREG Editors
https://www.vregventura.org/wp-content/uploads/vreg-logo-1.jpg
VREG Editors
2020-12-28 17:00:39
2021-01-30 16:17:19
Latest Facts About Unfunded Pension Liabilities You Need to Know