The 2020 Ventura City Council Candidates for Districts 2, 3 and 7 squared off in the East Ventura Community Council's voter forum. 
We're replaying the video for those voters who missed the virtual event.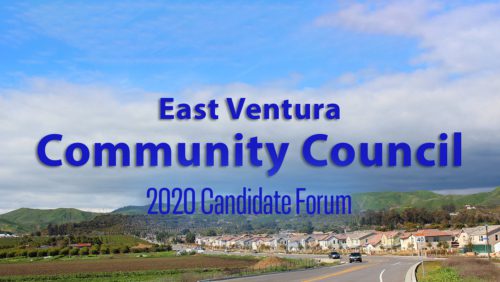 Unlike in years past, voters attended the 2020 candidate forums remotely. Covid-19 prevented in-person candidate engagement to woo voters. 
Who Are The 2020 City Council Candidates?
In District 2, Doug Halter, Dougie Miche and Christy Weir (the incumbent) answered the moderator's questions about their platforms. 
In District 3, Barbara Brown, Aaron Gaston, William Cornell, and Mike Johnson faced the moderator's fire. District 3 has no incumbent running for City Council because Matt LaVere won a seat on the County Board of Supervisors. 
The District 7 candidates, Heather May Ellinger, Nancy Pedersen, Joe Schroeder and Michael James Nolan, answered the moderator's questions. District 7 also has no incumbent running because Cheryl Heitmann chose not to seek re-election. 
What's Ahead For The 2020 City Council Candidates
The City of Ventura faces challenges in the coming years. These City Council Candidates must prove they are capable of meeting those challenges. 
Ventura hadn't recovered from the Thomas Fire in 2017, and it now faces recovering from the Covid-19 economic shutdown. 
Watch how the candidates present their ideas for economic recovery and vitality. Also, watch how the candidates respond to the moderator's questions about the city's most critical issues. 
VREG Has Reported On These Issues
For years, VREG has reported on the challenges the city faces. Feel free to review our previous articles on topics ranging from water to city employee pensions to failed economic development attempts. You'll find some of the most in-depth reporting on these issues available. 
We founded Venturans for Responsible and Efficient Government (VREG) in 2007 to assist the citizens of this community in better understanding their city government's fiscal management and the policy decisions that lead to our tax dollars' expenditure. We advocate open government, freedom of information, constructive dialog and efficient use of resources. 
We're a watchdog group determined to keep an eye on the city government to ensure it's working for all. We're ever mindful of Plato's warning to the citizens of any representative democracy. He said, "If you do not take an interest in the affairs of your government, then you are doomed to live under the rule of fools."
https://www.vregventura.org/wp-content/uploads/Saticoy-Ave-thumbnail-with-text-1000-x-666.jpg
666
1000
VREG Editors
https://www.vregventura.org/wp-content/uploads/vreg-logo-1.jpg
VREG Editors
2020-10-07 16:32:31
2020-10-16 09:40:23
Watch This Year's City Council Candidates Battle In A Forum